Want more Mary Morrissey?
Subscribe to Mary's YouTube Channel

Here Are Some DreamBuilder Program Testimonials
"My life has changed in so many ways… My husband and I are on this wonderful path of being able to work in a field we really want to work in. My friendships have gone deeper. My health is incredible and vibrant and I bounce out of bed every morning… This is what the DreamBuilder Program has done for me and I'm sure it can do amazing things for you as well."
– Andrea Brockbank

"The DreamBuilder Program has been amazing for me because it's helped me to get more positive energy in my life and to accomplish things that I wasn't quite sure I was going to do… It's meant new people in my life. It's meant new opportunities and I'm going for it."
– Paul Dugas

"I really discovered a new freedom in my life. [The DreamBuilder Program] is priceless."
– Josef Tichy
The DreamBuilder Program is a proven, reliable, repeatable system of transformation.
Like so many people, I spent decades struggling to have the relationships, money and career I wanted. What I finally learned was that I thought my problems were simply circumstances I couldn't control.
When I came upon the principles that I teach in the DreamBuilder Program, I began working tirelessly to learn and apply them to my life. After I created results in my own life that I really wanted, I spent a decade formulating and testing a system of transformation based on these principles on my clients and people all over the world, until I found a formula that worked.
I began to see that this system worked in the same way as electricity. Once you know exactly HOW electricity works, you can have it anywhere around the world.
In the same way, when you work with the code of transformation, you can have the results you want, too!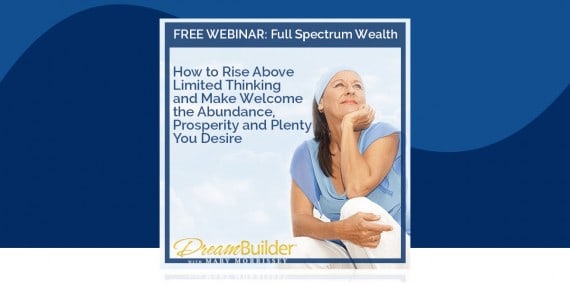 Make Welcome the Financial Resources You Need to Live Your Dreams
The secret to true fulfillment is to create abundance in all areas of your life. This is what's known as Full Spectrum Wealth. And how to create this for yourself is exactly what you'll discover on Mary Morrissey's groundbreaking online workshop!