These Powerful Les Brown Quotes Are Sure To Help You Choose the Path That's Right for You and Propel You Toward Success!
I first met Les Brown in 1987. Les and I were both just starting out on our journeys to grow our work in the world. Together, with another man who was doing the same, we were invited to work with a mentor named Jack Boland.
Jack taught many, many people over the course of his lifetime, but he mentored only three: Les Brown, Wayne Dyer and me. And during this period of mentorship, a friendship began among the three of us as we grew and supported each other, both in our careers and in life.
Our friendship has lasted many decades, and like many of us, I'm inspired by the thoughts and words of both men.
Today, I'd love to share three of my favorite quotes by Les Brown.
Want more Mary Morrissey?
Subscribe to Mary's YouTube Channel

Les Brown not only is a great motivator, but he lives from the motivation he teaches.
I've seen Les experience ups and downs over decades of life, just as we all do. It's one thing to know some principles and to say great things, but it's another thing to live them no matter what life tosses your way.
Watch Les Brown Live This Saturday!
I'm hosting Les Brown, Bob Proctor and other special guests on the can't-miss DreamBuilder Summit.
So, when you hear the words today that are three of my favorite quotes from Les Brown, know that he not only knows these things, but he actually lives them. And I know by hearing them, it could make a difference for you, too.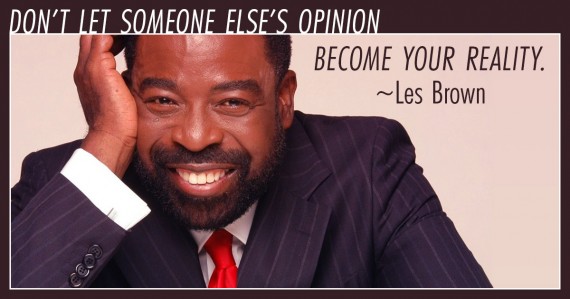 "Don't let someone else's opinion become your reality."
You may have had someone tell you that you're never going to be a great singer or you're not college material or something along those lines.
I think that one of the biggest pieces of advice anyone could ever give is to never let someone else's opinion become your reality.
Instead, if anyone ever doubts your abilities, simply ask yourself, what would I love? And then go for it!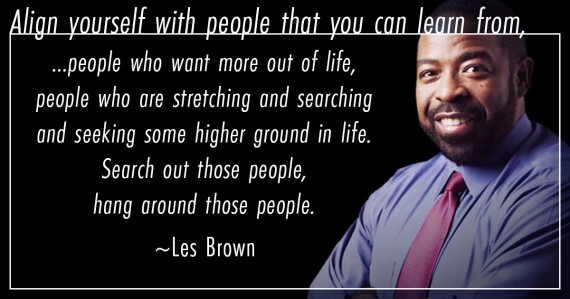 "Align yourself with people that you can learn from, people who want more out of life, people who are stretching and searching and seeking some higher ground in life. Search out those people, hang around those people."
There's something called the "Law of Averages."
The Law of Averages works like this:
You take the five people you hang out with most. Then average their happiness, fulfillment and income.
What you'll find is that you all have about the same level of happiness, fulfillment and you all earn about the same amount of money.
This is because what you think creates your experience and people who hang out together usually think and talk about the same things and in the same way.
So, hang out with people who are growing. Hang out with people who have goals, and who are committed to growing and developing everyday for the rest of their lives.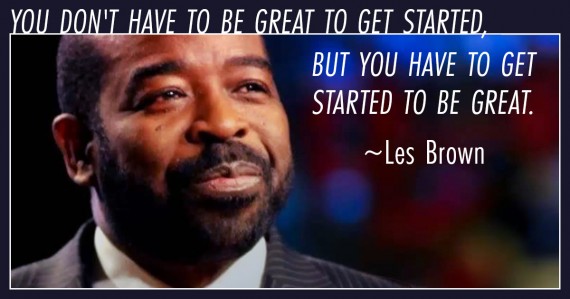 "You don't have to be great to get started. But you have to get started to be great."
When I think back to that office where I met Les and Wayne back in 1987, I remember that neither of us had done much of what we could call great work in the world.
But we made a commitment to start anyway, and Les' words ring true.
So what would you love to have or change in your life? You don't have to be great at it right now to get started. But you do have to get started to be great.
Thank you, Les Brown!
I want to give thanks for Les Brown, his work in the world, his presence and all the difference he's made being on our planet.
And what I'd absolutely love is for you to take in these three quotes today and make use of them in your own life.
And now, here's a question for you…
Out of the three quotes I shared with you, which one is your favorite? Go ahead and share your thoughts with me in the comments section below.
AND! If you'd love more inspiration, and to discover how to overcome limiting thoughts and patterns in order to attract and enjoy greater abundance and joy in all areas of your life ‒ then get ready to register for a can't-miss free online summit happening THIS SATURDAY!
Join Les Brown, Bob Proctor and other special guests for a free, live event called DreamBuilder Summit.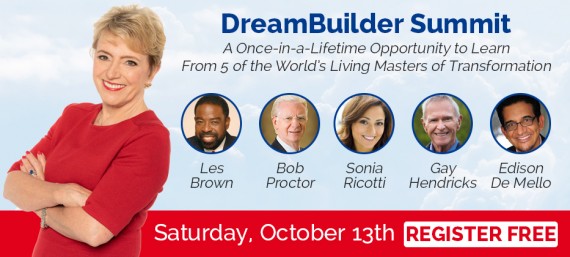 Register Free Now for DreamBuilder Summit >>