When you think of July 4th in the United States, you probably think of barbecues and fireworks.
You most likely also know that we're celebrating our country's independence from Great Britain in 1776.
Our nation's founders declared our country's freedom through a document called the Declaration of Independence.
Two of the authors, John Adams and Thomas Jefferson, both went on to become the second and third President of the United States, respectively.
The Declaration of Independence indeed declared independence from Great Britain's rule, but it also went much deeper than that…
The document declared an independence for all individuals and emboldened people in the United States (and frankly, people all around the world!) for centuries.
And inherent in the Declaration of Independence, which is what I really want to impart to you today, is that there's a power inside every single one of us – a force that longs deeply for freedom, deserves freedom, and has a right to freedom.

The words in the Declaration of Independence speak to a greater spiritual freedom that can be used to achieve your highest good…
The Declaration of Independence states:
"We hold these truths to be self-evident, that all men are created equal, that they are endowed by their Creator with certain unalienable rights, that among these are life, liberty and the pursuit of happiness."
It is in our nature to want equality, a greater sense of aliveness and freedom and a truly joyful life. Our spirit longs for these freedoms and they are rights divinely granted to us.
Historically, however, it hasn't always been easy for the United States. In fact, our country went to war to gain these rights and has since gone to war to protect them.
But what we all know is that there's a deeply spiritual right that every last one of us possesses for life, liberty and the pursuit of happiness.
And when we live into this truth and honor it in others, we create a better, stronger, more evolved world.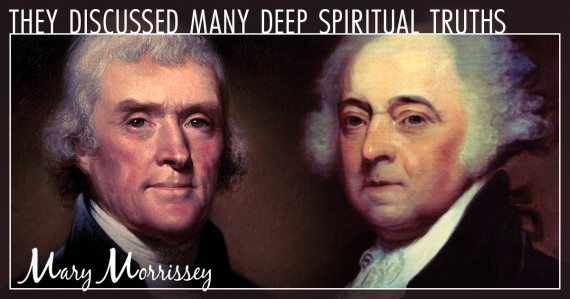 This story about John Adams and Thomas Jefferson can teach us a lot about understanding the spiritual power within ourselves
John Adams became the second president of the United States, and he desperately wanted to serve two terms. However, Thomas Jefferson came along and unseated him, becoming the next president.
And John Adams was very bitter about it!
He believed that Thomas Jefferson had used unfair and untruthful tactics to win the presidency, and he refused to talk to Jefferson for many decades, even though Jefferson made several attempts to connect with him.
Over time, the men grew older.
When John Adams' wife Abigail died, Thomas Jefferson reached out one last time, by letter.
Eventually John Adams wrote Jefferson back, and they began a written exchange that lasted for years.
They discussed many deep spiritual truths and lessons they'd learned during their lives by trying to live into the principles they wrote about in the Declaration of Independence.
In these letters, they came to deep understandings about confession, forgiveness, the pursuit of power and the sincere desire to thrive.
They both cared so deeply about the new country and wanted to make a profound difference, though they had different methods.
As time passed, they not only forgave each other, but also became dear friends.
After some time, Thomas Jefferson heard that John Adams was falling ill.
He wrote him and asked, "How are you doing? How are you really doing?"
And in his very last letter to Jefferson, Adams replied, "You ask me how John Adams is. I will tell you…"
What Adams said perfectly revealed the spiritual independence he'd grown into over the course of his life. He answered:
"The house in which John Adams lives is crumbling. The foundation is crumbling. The door is falling off its hinges. The roof is cracking and leaking. Yes, soon John Adams will need to move out of this house, but John Adams? John Adams himself is quite well, quite well indeed. Thank you for asking."
Now what was John Adams really speaking about?
He was speaking about his recognition that a force resided in him that was separate from his body.
John Adams knew that the spiritual part of him was stronger than any circumstance, and that he possessed a true spiritual independence – a spiritual independence that we can all find within ourselves, too.
And here's the beautiful end to the story of these two founders' friendship…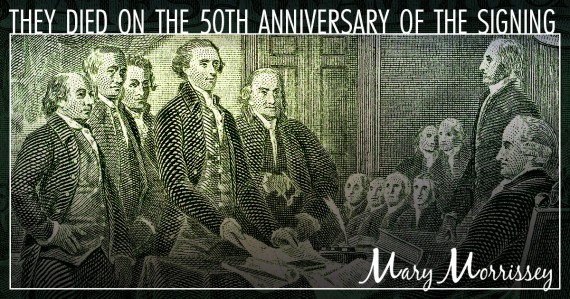 Both men died within hours of one another, on the 50th anniversary of the signing of the Declaration of Independence.
Their independence from their bodies in this realm was granted on the same day they penned the greatest treatise of individual independence in history.
Whatever country you reside in, remember that we are all dependent on the spirit that breathes us, and that spirit is independent of any physical circumstances…
We are dependent on the power breathing us – the very spirit that gives us life.
But when we embrace the idea that this spirit is independent of any external circumstances, we can grow into our most expansive, joyful lives.
Spiritual independence means being independent of others people's opinions, our own histories, outside circumstances and so on.
Spiritual independence means rising above all of these limiting dependencies and asking ourselves, "What would I truly LOVE in this life?"
And the highest truth will always be answered back to us.
So ask yourself what you would most love for your health, your relationship and your career… and know that there's a power within you to make those things happen.
That power – that spiritual independence – is available to us no matter our country or political system.
Today, take that power and live it.
And now, here's a question for you…
What's something that matters to you about being independent in spirit – independent of conditions or anything that's been going on in your life?
What kind of independence would you love?
Go ahead and share your thoughts with me in the comments below. I'd love to hear from you!