Want more Mary Morrissey?
Subscribe to Mary's YouTube Channel

Not Only Was He An Exceptional Leader and Charismatic Speaker, Dr. King Embraced a Strong Mindset That Allowed Him to Have Faith During Times of Adversity
"Faith is taking the first step even when you don't see the whole staircase."
– Martin Luther King Jr.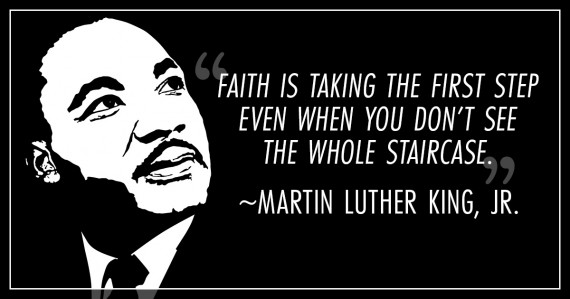 It was October 1960.
Martin Luther King Jr. was in Georgia State Prison at Reidsville. His wife, Coretta Scott King, didn't know that he had just been imprisoned.
Coretta was pregnant with their third child at the time, so Dr. King decided to write her a letter. In his letter, he told his wife that he wasn't sure how things were going to work out, but he had to believe that everything was going to be okay. He also included words of encouragement.
A Letter to Corretta Scott King
Here's the first part of his letter to Coretta Scott King:
Hello Darling,

Today I find myself a long way from you and the children. I am at the State Prison in Reidsville which is about 230 miles from Atlanta. They picked me up from the DeKalb jail about 4 o'clock this morning. I know this whole experience is very difficult for you to adjust to, especially in your condition of pregnancy, but as I said to you yesterday this is the cross that we must bear for the freedom of our people.

So I urge you to be strong in faith, and this will in turn strengthen me. I can assure you that it is extremely difficult for me to think of being away from you and my Yoki and Marty for four months, but I am asking God hourly to give me the power of endurance.

I have faith to believe that this excessive suffering that is now coming to our family will in some little way serve to make Atlanta a better city, Georgia a better state, and America a better country. Just how this can happen I do not know yet, but I have faith to believe it will. If I am correct, then our suffering is not in vain.
Source: http://okra.stanford.edu/transcription/document_images/Vol05Scans/26Oct1960_ToCorettaScottKing.pdf
What's remarkable here is the positive mindset of Dr. King in his letter to Coretta Scott King during such a challenging time of adversity. The lesson that we can take away from this letter is that this same mindset can be applied in any challenging situation, circumstance or condition you might be facing.
When dealing with adversity, you may not have any idea how it's all going to work out, but what you CAN control is your own mind. You can choose to have faith that everything will work out.

Dr. King believed that things were going to work out – one way or another
Many years ago, over the course of about a decade, I had the privilege to work on a project with the United Nations, Martin Luther King Jr.'s children and Mahatma Gandhi's grandchildren. The project centered around the topic of nonviolence and operating with the mindset of both Dr. King (3 Lessons from MLK Jr: https://www.marymorrissey.com/blog/lessons-from-martin-luther-king-jr/) and Gandhi.
Both Dr. King and Gandhi believed that things were going to work out one way or another. They believed there was a power in themselves, and that there was a power in the universe that was greater than any adversity or difficulty they would ever face.
The adversity that you've faced, or may be facing today, can seem overwhelming and even staggering at times. Yet you have the power to apply a mindset like that of Dr. King and Gandhi – the type of mindset that helped them lead the Civil Rights Movement and Indian Independence Movement.
In his letter to Coretta Scott King, Dr. King said,
"I have faith in that power."
He didn't have to know exactly HOW the situation was going to work out, but because he believed he was doing the right thing, he believed that that power would work through him in ways that would bring about good, and he wanted to see this good for Atlanta, the country and for his family.

You, too, can believe that it will all work out
Whenever you face any challenging situation, circumstance or condition, remember that there's a power greater than you that's breathing you, and that power knows more than you know. By working with this power, you can believe that everything will work out.
Now here's a question for you:
In your own life, can you think of a time when a challenging circumstance, situation or condition came up for you and you chose to have faith that it was going to work out?
Go ahead and share your thoughts with me in the comment section below 👇🏼👇🏼👇🏼
And while you're writing, think about the words of encouragement and faith you can give to others who might be going through a difficult time right now. I think it's a very important day for us to share with one another, encourage each other, especially at this time in our country and our world.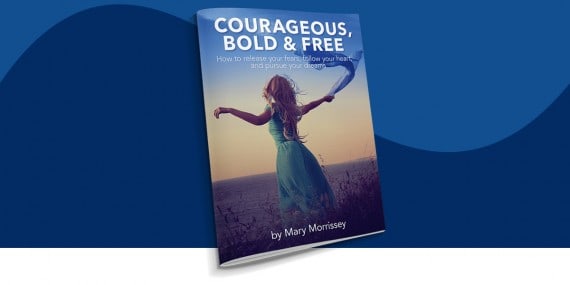 Live With More Courage and Faith Than Ever Before
If you dream of enjoying increased health and vitality, closer and more loving relationships, a more fulfilling vocation, the ability to give back to causes that you feel passionate about, or greater time and money freedom, but you're not sure how or you feel like you need more support…Then my ebook, "Courageous, Bold & Free," is a must.